Our cTrader can be used to automatically find all chart patterns, harmonic patterns and support/resistance levels in your cTrader terminal. In addition, the indicator can scan all markets across different timeframes to create a full list of trade opportunities. Our indicator is by far the most advanced scanner available for cTrader.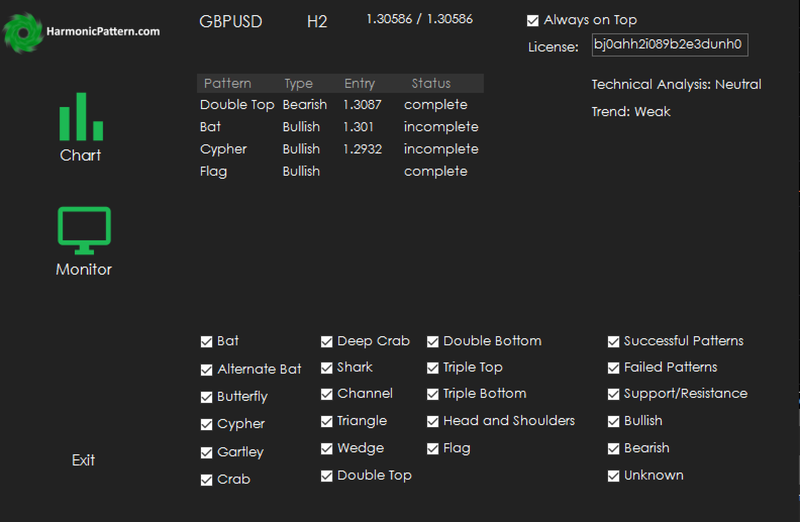 1) Getting Started - Setting up
You need a valid license to use the cTrader Indicator. You can go to Add-ons -> cTrader tab to check if it's included in your plan.
After successfully subscribing, you should see the link to download the cTrader Indicator.
You can also find the video instruction under cTrader page. Follow it step by step to setup the EA on your computer. Remember to Allow full access for the Indicator. Then, Enter the license to get started.
2) Chart feature
The indicator can only be used on 1 chart at a time.
After entering your license or start the Indicator after the 1st time, all patterns on the current chart will be loaded into the Chart view.
Click on any row in Chart view to go into Solo mode , which will show that pattern alone with entry, profit and stoploss levels.
Click Back button to get out of Solo mode.
Use Filter box under the list to filter what you see on your chart.
You can change symbol and timeframe on the cTrader chart to see patterns for different pairs.
3) Monitor feature
Monitor is used to scan for all patterns on all symbols.
We use the list of symbols in your Watchlist to scan for patterns. You can learn how to customized your Watchlist and create different watchlists here
You can choose which timeframes to scan by check/uncheck the boxes at the bottom
Press Scan to start scanning. While the program is scanning, do not touch the Indicator or cTrader chart.
4) Exit
To completely remove the indicator, right click on the cTrader chart -> Object list -> Indicators -> Remove HarmonicPattern.com indicator.