In this article, we will guide you through how to use the Monitor to filter and look for the most profitable trade ideas.
Overview
Whereas Chart tab is used for 1 individual symbol, Monitor is best used to monitor a list of opportunities across multiple symbols and timeframes. In Monitor, you can create complicated filters and save them for later use.
Basic
In Monitor, you can filter the list of patterns by Pattern Status, Pattern Name, Pattern Type, Timeframe, Asset Class and Individual Symbol.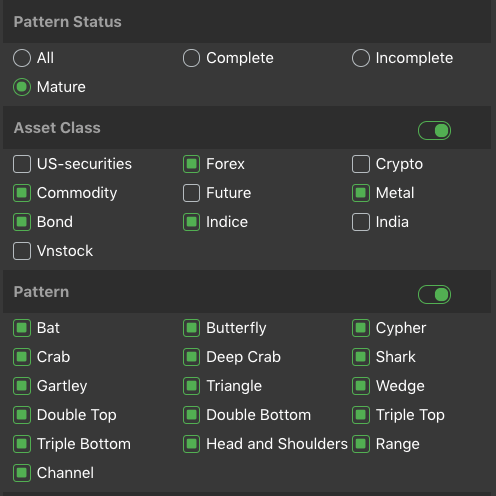 Filter by Timeframe: Can be achieved by using Timeframe button.
Filter by Pattern Status, Pattern Name, Pattern Type, and Asset class can be achieved by using Settings button.
Filter by Individual Symbol can be done by typing into the Search box or uncheck the green checkbox next to each symbol to exclude it. You can also get a list of all pairs containing USD by typing USD into the search box and hit enter.
Filter by Pattern Status

The most import concept in the Monitor is to understand different pattern statuses and how each status corresponds to the development of a pattern.
Below is a list of definitions for your reference:
Mature: Patterns that just recently completed 1-4 candles ago and nearly completed patterns. Recommended Option.
Incomplete: All incomplete patterns.
Complete: All complete patterns including complete, failed and successful ones.
All: All patterns
Using Search Box

The Search box let you filter by individual securities easily. If you want to see a list of EUR/USD and AUD/USD only, type each symbol in and hit Enter.
You can also perform advanced filtering like get a list of all symbols which have USD as 1 of the currency by typing USD into the search box and hit Enter.
Save Your Filter
It takes a lot of time to go through all of the filters and then lose it when you refresh the page? Nah, you can save all of them into different views so you can switch between them as often as you want.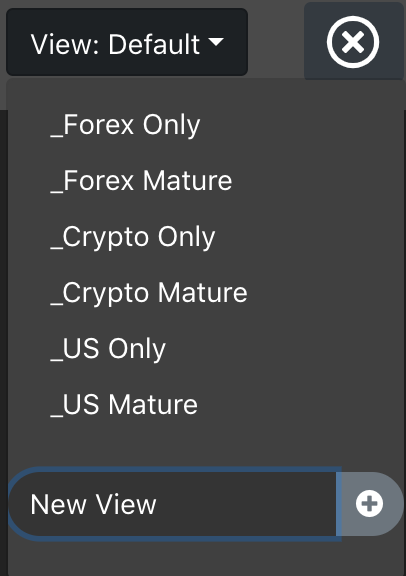 Use the View dropdown, type in the name of the new view that you want to save and click on the plus button on the right side. Please note that, we do not automatically save your filters so you need to save them every time you make an update to your view. If you use the same name (case-insensitive), the old View will be updated and overwritten by the new one.
We also have some default Views like Forex only, where we use Asset Class filter and choose only Forex. View Forex Mature chooses Mature as Pattern Status on top of the Forex as asset class.
Data provided by Finnhub. Learn more about Finnhub research on Finnhub's Github page and Finnhub's Paypal integration
If you have any further questions, please contact us at [email protected]